Following conformity is not one of the stronger suites for aftermarket company Vilner. The Bulgarian tuner, however, is one of the best in the business which means that whenever it does defy convention, it really knows what it's doing. Known for producing against the grain and unique products, the tuner has now taken on the mighty Alfa Romeo Zagato Roadster. The legendary vehicle is about two decades old and the tuning program for this particular sports car actually looks to bring back to the original shiny opulence to the limited edition sports car. Standing head and shoulders above its rivals, the Zagato Roadster is the epitome of Alfa Romeo exclusivity as it was only produced between 1992-94 where out of the planned 350 units, only 284 were ever produced.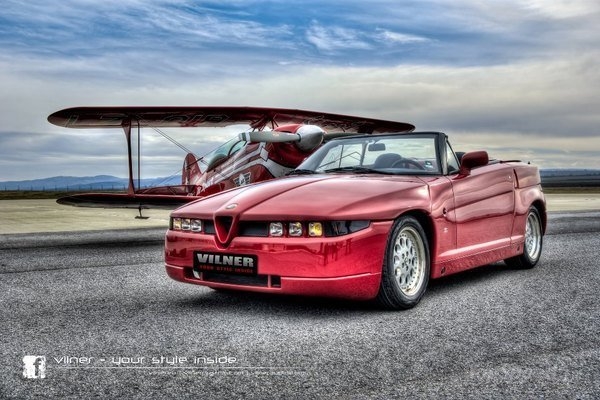 Hence, what Vilner did with the legendary vehicle was that it restored its body, chassis and engine, cleaned it out thoroughly and fully serviced it as well. To pay homage to Ferrari, Alfa Romeo's sister brand, a red matte finish was used to first dress the body of the Zagato Roadster post restoration. A new hood was also created for the sports car and all the seals that needed replacing were also replaced by Vilner. The Bulgarian tuner also put in the necessary elbow grease to rebuilding the interior of the vehicle.
The cabin of the vehicle was also fitted with appropriate floor mats, door panels, steering wheel, center console and a new dashboard. To bring back the iconic sports car to its former glory, Vilner went to all kinds of lengths that can evidently be seen in the restoration of the seats in the vehicle. The Vilner restored Zagato Roadster also uses a restored version of the original 3.0-liter V-6 engine stock fitted in the vehicle that gives the vintage vehicle an max output of 181 lb-feet of torque @ 4,500 rpm and 210 horsepower @ 6,200 rpm.