Well folks, almost all of the major international auto shows for the season are over which means that we only have a handful of industry events left before everyone in the business goes back to the drawing boards and assembly lines for the summer only to return with new offerings in September. However, this also means that the biggest names in the industry are all set to begin pondering over their existing lineups and what other vehicles they need to add to their repertoires. This of course result in a number of rumors every year though this rendering by Theophilus Chin that surfaced a few days ago suggests that company might be strongly considering entering the supermini market with a brand new model.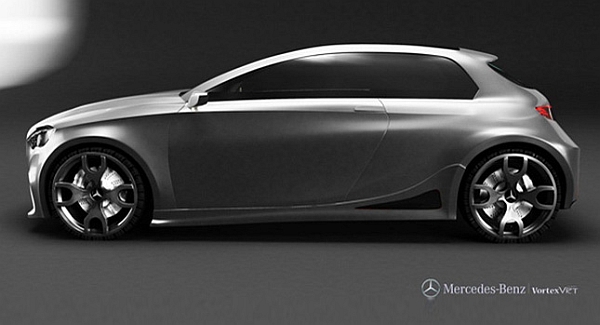 Of course, a three-pointed star competitor to existing segment leaders like the Audi A1 and the MINI vehicles has been rumored for a long while though the official company stance so far has been that these vehicles are simply not profitable enough. Also, since the company would require a lot more funds to develop a standalone supermini boasting of exclusive Mercedes technology, the company has been reluctant about creating such vehicles. However, the company seems to have changed its stance and reports suggest that it is all set to debut a new entry-level car based on the Renault Clio that would be developed under the X-Class moniker.
The new range of vehicles would be slotted under the A-Class range though Merc could also offer crossover and sedan variants to enhance the range. A 1.5-liter or a three cylinder 1.0-liter unit is expected to power the range with diesel options also being included. The X-Class Supermini should be priced at around €20,000 with first lot of the vehicle being launched in 2018. Sources suggest that the company would aim to sell between 100,000 and 150,000 units of the X-Class Supermini annually.