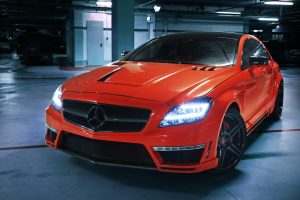 Remember German Special Customs' previous project based on the Mercedes CLS 63 AMG? It was called the Stealth, due to its sinister looks and the matte foil wrap that was aimed at mimicking the appearance of fighter jet planes.
A year later, GSC is again trying to get attention on its CLS 63 AMG Stealth by painting it bright orange – rendering the car's name a bit inappropriate in the process. The only thing stealthy about the new version are the black-painted 20-inch wheels and tinted windows.
There are no changes regarding the aerodynamic package, with the side skirts, spoiler lip, vented bonnet, fender flares, rear diffuser, bootlid spoiler and quad tailpipes being carried over from the 2012 CLS 63 AMG Stealth.
The orange theme is continued in the interior, where German Special Customs fitted matching orange leather on the seats, dashboard, center console and door panels. There is also carbon fiber trim on the dashboard and the doors.
Nothing changed under the bonnet, with the same 5.5-liter AMG V8 engine developing 740 hp (750 PS) and peak torque from 700 Nm (516 lb-ft) to 1,150 Nm (848 lb-ft), thanks to GSC's bigger turbos, additional water cooler, custom exhaust system and software update. Just like before, the car also comes with a KW adjustable suspension on the front axle.
The 0-62 mph (0-100 km/h) is still done in 3.7 seconds, only this time people will notice it more due to the color. Top speed is rated at 217 mph (350 km/h).