Scuderia Cameron Glickenhaus will amaze you at the Geneva 2015, reports from Ferrari chatsuggest. The rumours suggest that Scuderia Cameron Glickenhaus is the contractor working on a P33 one-off road car. It will only weigh 725 kilos or 1600lb and will be powered by a twin turbo V6 engine producing 500hp. It will feature a "Three Wing" design where the three wings are integrated into the shape and the cockpit.
The car is a lot smaller than the Ferrari P4/5 by Pininfarina and the doors and roof were inspired by those of the Ferrari 512 S Modulo. The Ferrari P33 will be closer to the Dino Competizione than the Ferrari P 4/5 by Pininfarina and will utilize the same carbon fibre chassis and body.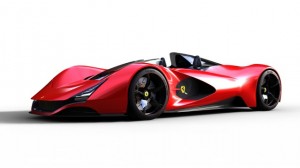 When asked by a forum user about the number to be built, the answer was 1. There are no plans to build any more. The Ferrari P33 will therefore follow the same road as Pininfarina did with the P4/5, a one off supercar.