When some people hear "M3" they could imagine a classy sedan made for looks and luxury, not necessarily power – but take a look under the hood of Kevin Byrd's 1990 BMW M3 build and you just might not believe your eyes! Kevin removed the stock 4 cylinder motor and packed Corvette's 500 Horsepower LS3 in the engine bay with a dominant T56 6-speed transmission behind to distribute all those horses to the wheels.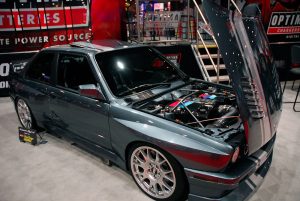 Kevin Byrd is a long-time car enthusiast, mechanic, fabricator, and tech junkie. Kevin graduated from the University of Florida in 1998 earning his Mechanical Engineering Degree. He first started his career in Advanced Design in Aerospace, and has since then move on to work in Powertrain Research and Development for Ford Motor Co. Kevin uses the time around his schedule at Ford to work as one of the two hosts of "Two Guys Garage", a TV show on SPEED channel that demonstrates the correct way to modify vehicles and install aftermarket products. He has appeared in other automotive TV shows such as "Overhaulin'" and "Rides"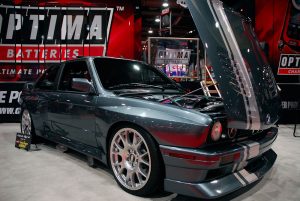 Even during his demanding schedule, he somehow found time to build a 1990 BMW M3 for the 2012 SEMA show, which will mark the 9th year Kevin has been in attendance. Kevin states, "Building a car for SEMA takes a small army of talent, stacks of cash, or in my case, a lot of insanity, lack of sleep and determination." It looks like all that hard work was well worth it because he now has a beautiful powerhouse of an M3, and will be featured in the Top 5 SEMA Editors Choice from AutoGuide.com as well.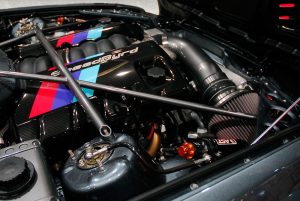 After the difficult task of fitting an over 400 lb. engine into a Bimmer, Kevin got in touch with his contacts at K&N Engineering to provide him with a universal cone-style air filter for his unique application. Since Kevin decided to put a 500 horsepower LS3 in a lighter car, the power-to-weight ratio will be significantly high. "I chose to use a K&N because it's just good stuff, I always use them." Kevin's told us his first K&N air filter was for a hot rod Camaro he built over 23 years ago! K&N's high-flow filtration technology continues to help Kevin reduce restriction, and get the most efficient air flow to his engines.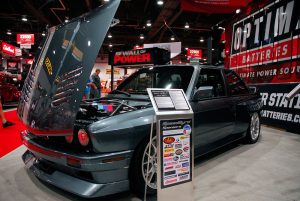 Kevin plans on having the car featured in "Popular Hot Rodding" and "European Car" magazines, and wants to tour the race circuit in 2013.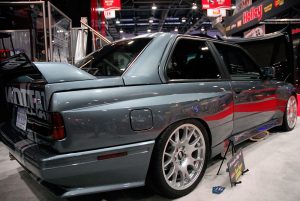 Kevin Byrd's BMW was equipped with the following modifications at SEMA 2012:
500hp LS3 Engine swap
T56 6-speed Transmission
Hand-fabricated Headers
Dual 3″ Exhaust
Magnaflow Mufflers
AST 3-way Adjustable Coil-overs
BBS Wheels
Pirelli Pzeros Tires
K&N Universal Air Filter