As the demand for electric vehicle is steadily gaining steam around the world, manufacturers too are pushing hard to develop the technology and merge it with some of the most popular models in their lineups. Even though electric powertrains still have the heavy battery issue to deal with, manufacturers are still pretty adamant about developing high performance vehicles that would give owners the same kind of driving satisfaction as a gas-driven sports car. Tesla's top model remains one of the more coveted vehicles in the segment though UK-based Bristol Cars has also been working on a European electric supercar for quite some time now.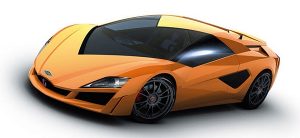 The historic British automaker announced back in 2011 that it is hard at work developing an all-electric supercar which would boast of top speeds exceeding 200 mph. however, the company had filed for bankruptcy just a few months before making the supercar announcement which meant that the project was as good as shelved. But, the company seems to be back on its feet and doing well enough to revive the project. At the moment, the Kamkorp Group owns Bristol Cars and the former is expected to bring some of its knowhow from the Namir electric supercar concept that was unveiled by it in 2009 to the new Bristol Cars electric supercar.
According to sources close to the company, the new vehicle will use a Wankel rotary engine, four electric motors and a lithium-ion batterypack to run the extended-range electric car. The design is likely to be sourced from an outside firm though Italdesign Giugiaro's work on the Namir concept is likely to influence the new supercar's exterior. The new supercar is also expected to match or better the Namir's top speed of 186 mph and 0-60 mph sprint time of 3.5 seconds. The Bristol supercar could make its debut as soon as July 2013 at the Goodwood Festival of Speed.