Wolfgang Durheimer, the development chief at Audi, has been looking forward to explore the possibilities of the company's racecar technology being transferred to the road going vehicles. Given how Audi has won the 24 hours of Le Man's endurance race 11 times in the last 13 years that plan makes a lot of sense as well. And now we have a real name for the vehicle that is going to bring Audi's fine sporting spirit to the road. Dubbed R20, the new model will be modeled off the R18 Le Mans cars with a full-length tailfin as well as the usual supercar styling molding like gullwing doors, a canopy-style cockpit, an air brake in the guise of an adjustable rear spoiler, ventilated rear and front wings, stacked LED headlamps and a single-frame grille.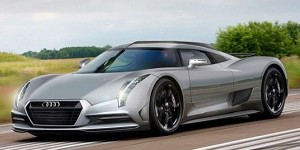 New info about the diesel-hybrid supercar reveals that the Audi R20 will surely feature a persuasive power-to-weight scheme with the front wheels being driven by two 56kW electric motors. The lightweight body will hold a twin-turbo V6 engine which would give the diesel-hybrid powertrain a total power output of around 410+ kW. More details about the powertrain haven't been revealed just yet.
The diesel-hybrid racecars the company has featured at Le Mans are already proving to be quite successful and dependable in extreme situations which should translate pretty well in road going vehicles that would more often than not only be seen driving on the finest roads and traffic conditions known to man. So far, the diesel-hybrid road-going supercar is expected to be shown off in prototype version around the auto show circuit sometime in 2017 though the name Audi R20 might give way to something a lot sexier though still linked to the R-series of its racecars.