The exterior brings no major changes, but we have to admit it is the best looking model from the new generation 911. It received a new all-wheel-drive system, active rear-axle steering and adaptive aerodynamics among many other new features. The new 911 Turbo also features the widest body of all 911s, as it is about 28 mm (1.10 inches) wider than the 911 Carrera 4 models.
As previously rumored, the new 911 Turbo will only be offered with only the PDK gearbox.
Exterior
The new-generation 911 Turbo is about 28 mm (1.10 inches) wider than the 911 Carrera 4 models, making it the widest model in the new 911 family. For the first time, the new 911 Turbo is equipped with Porsche Active Aerodynamics (PAA), which includes a retractable three-stage front spoiler and a deployable rear wing with three adjustable wing positions.
Just like with all the other 911 models, the new Turbo version received a new front fascia with redesigned headlamps and larger air intakes. The new Turbo S version also received new full-LED headlights that feature four-point daytime running lights and dynamic, camera-based main beam control.
The rear end received new taillights and a new exhaust system with four tailpipes. There is also a fixed rear wing that provides increased stability at high speeds.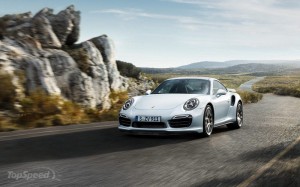 Interior
Just like the previously launched Carrera, the interior of the new-generation Turbo has been fully redesigned. For example, the S version's interior is offered with black and Carrera red trim and adaptive sport seats plus with 18-way adjustment and memory.
All models are offered with a standard Bose sound system, with a new-for-2014 Burmester sound system offered as an alternative.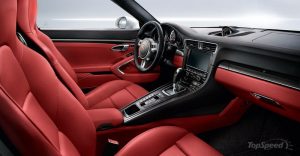 Drivetrain
Under the hood, the new 911 has received a turbocharged 3.8-liter six-cylinder engine with direct fuel injection. This engine delivers a total of 520 horsepower in the standard model and 560 horsepower in the S version.
The engine is combined with a seven-speed dual clutch transmission (PDK), plus an auto start/stop function with engine shutoff. This way the engine's fuel consumption has been reduced by 16 percent to 9.7 l/100km (24.2 mpg).
The engine sends power to all four wheels via the all-new Porsche Traction Management with electronically controlled and activated multi-plate coupling.
Porsche also offers an optional Sport Chrono Package that reduces Turbo's 0-to-60 mph sprint time to 3.2 seconds. A standard Turbo S sprints from 0 to 60 mph in 3.1 seconds and can hit a top speed of 197 mph.
The new-generation 911 Turbo S already scored impressive results, as it lapped the Nürburgring track in just 7:30 minutes.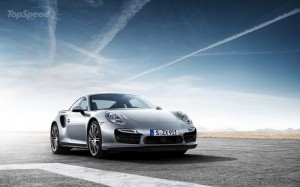 Suspension and Brakes
The new 911 Turbo is built on a new chassis and sits on a wheelbase that is 100 mm (3.93 inches) longer than last year's model. It sits on standard 20-inch wheels combined with PCCB ceramic brakes and PDCC active anti-roll system – offered for the first time in a 911 Turbo models.
The new-generation Turbo is also equipped with rear-axle steering that improves both circuit racing and everyday performance. This system includes two electro-mechanical actuators instead of the conventional control arms on the left and right of the rear axle.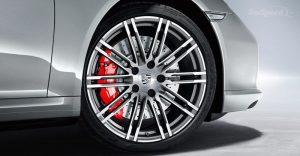 Prices
The new 911 Turbo will be put on sale at the end of September 2013. The base Turbo is priced at $149,250 and the Turbo S at $182,050.