Nissan GT-R is one of the most appreciated sports cars among tuners; but if you ask us, it needs no upgrades. Still, the folks over at Litchfield are offering new performance upgrade options for the GT-R that manage to take the output up to an amazing 750 horsepower.
The tuner is offering five different upgrade stages for the GT-R, with a sixth one under development and promising to raise the output to a total of 1,000 horsepower.
The upgrades include changes from small ECU recalibration or new Y-Pipe for the exhaust system up to the addition of new Turbo intake pipes or improved boost control.
The prices for the upgrade differ depending on the stage the customer selects and will range from £1,095 ($1,700) for stage 1 and up to £14,895 (about $23,000) for stage 5.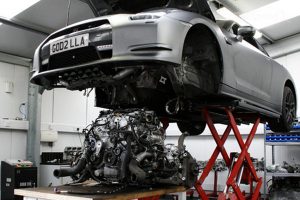 Stage 1
This is the stage that offers only minor upgrades for the GT-R. It includes: new Y-pipe; recalibration of the GTRs engine management system; Ecutek code for adjustable boost control, which is adjusted via the steering-wheel-mounted cruise control buttons; updated ignition control, VVT and fuel mapping; Litchfield RACERCOM Switchable maps to allow you to drive in Economy or Race mode; and custom launch-control settings. This helps squeeze an extra 60 to 70 horsepower from the GT-R's 3.8-liter twin-turbo V-6 engine.
Customers interested in this upgrade will have to pay a total of £1,095 ($1,700). A fairly reasonable price if you want to get a GT-R with about 570 horsepower under the hood.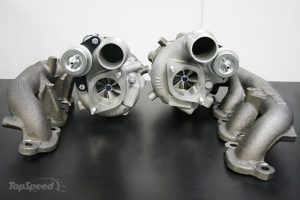 Stage 2
Upgrades for Stage 2 are a little bit more complex and include: everything from Stage 1; a new 76 mm (3-inch) Milltek Y-Pipe and rear exhaust system to reduce back pressure by 37 percent; and free-flowing K&N air filters.
When compared to the stage 1, these upgrades add another 20 horsepower, leaving the GT-R at 590 horsepower.
For these upgrades, you'll have to pay a total of £2,764 ($4,300). If you already have Stage 1, simply pay another £1,887 ($2,924) to upgrade to this kit.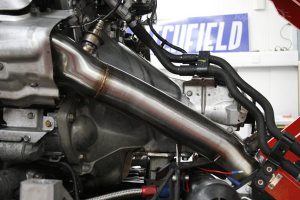 Stage 3
If you want an additional 10 horsepower, you'll have to opt for Stage 3. This includes: everything in Stage 2 and a Litchfield Large Bore intake kit with large-capacity cone filters, smooth mandrel-bent pipework and larger-diameter air intakes.
To get the Stage 3 tune and end up with a 600-horsepower GT-R, you'll have to pay an additional £3,199 ($4,95o). If you already have Stages 1 or 2 installed, you only need to pay £2,510 ($3,889) or £923 ($1,430), respectively, to upgrade to Stage 3.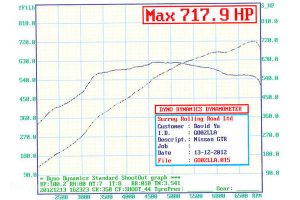 Stage 4
This stage is actually divided in two different stages: 4 and 4.5. In stage 4 the upgrades include: everything from stage 3 and 1,100 cc Bosch injectors.
Stage 4 will take your GT-R up to 620 horsepower and is priced at £4,249 ($6,500). If your GT-R already has Stage 1, 2 or 3, it'll only cost you an extra £3,487 ($5,403), £1,900 ($1,844) or £1,349 ($2,090), respectively, to upgrade to Stage 4.
Stage 4.5 takes things up a few notches. It includes: everything from Stage 4; a turbocharger with an IHI core, CNC machining to allow for a Spec V turbine and a billet compressor wheel, which all combine for faster turbo spool up; Garrett wastegate actuators; a pair of high-flow fuel pumps; and a Y-pipe-back 90 mm (3.54-inch) exhaust system.
With these upgrades the GT-R deliver a total of 700 horsepower and over 600 pound-feet of torque.
Customers interested will have to pay a total of £9,995 ($15,500). There is no pricing to upgrade to Stage 4.5 from any of the other stages.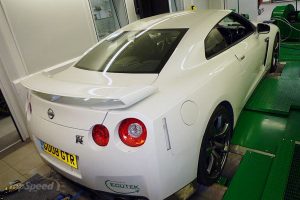 Stage 5
The biggest power gain to date comes from the Stage 5 kit. This bad-boy includes: everything from Stage 4.5; Garrett ball-bearing turbocharger cores to further increase the blower's efficiency; a Forge Motorsport intercooler to reduce air temp without excessive pressure loss; Litchfield Turbo intake pipes; and 3-2-1 90 mm (3.54-inch) stainless-steel down pipes.
These upgrades will take the engine's power up to a total of 750 horsepower and is priced at £14,895 – (about $23k). If you upgrade from Stage 1, 2, 3 or 4, respectively, to Stage 5 it will but keep the 76 mm (3-inch) exhaust kit, it will run you £13,699 ($21,227), £12,105 ($18,757), £11,626 ($18,015) or £10,672 ($16,537), respectively.
Stage 6
Coming Soon!!