The 2013 Chevrolet Camaro ZL1 remains the most powerful road-going Camaro produced to date and despite the Camaro recently receiving a dramatic facelift, the most potent 2014-specification car, the Camaro Z/28, simply isn't as powerful as the ZL1.
Worry not however, as the 2014 Chevrolet Camaro ZL1 coupe and convertible were recently spotted testing for the various first time wearing some interesting bodywork.
From the rear, the 2014 Chevrolet Camaro ZL1 features the brand new rear taillights of the 2014 model but from the front, it looks identical to the current ZL1.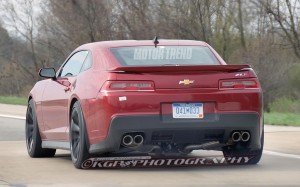 Well, according to Automobile Magazine that is because Chevrolet has decided to maintain the front-end from the previous generation Camaro into the facelifted variant because changing the front fascia would have required too much aerodynamic work.
t's currently unclear when the 2014 Chevrolet Camaro ZL1 will be released but due to the following prototypes featuring little or no camouflage, we wouldn't be surprised if a reveal wasn't just around the corner.
[Via Motor Trend]