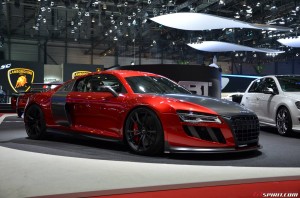 Drivers of the Audi R8 V10 now have more options for their filter kits after induction experts, Pipercross from Northamptonshire, created a bespoke induction set-up that affixes directly to the factory intakes while doubling the surface area available for filtration
The technique behind its performance is the selected multilayered foam within the unit that offers 30% more air-flow than OEM filters. Advantages include better rate of flow, the ability of the ingenious multi-layer design to filter down to a far finer rate, protecting the engine against damage. The filters come with hand-finished MAF boss housing to allow the factory sensors to be fitted easily and directly into each filter.
Pipercross is offering these kits with a specifically-tailored oil to maximize filtration and flow, not to mention the lifetime warranty. The kit is priced at £185.00 +VAT and what you get is a subtle induction 'roar' combined with a genuine airflow improvement.
Source: GTSpirit